Get Pippa Middleton's look!
We have all seen the gorgeous photos of Pippa Middleton's wedding. Her somptuous dress, the orchard of flowers and those adorable flower girls and page boys giving this cute touch that makes all the difference.

Now, all the brides-to-be are searching on Google for "pageboy knickerbockers" and above-the-knee traditional flower girl dresses, to get that perfect look too. I guess weddings to come will see an increasing demand for these adorable wedding party outfits.
Straight away, some people contacted me to know if we were the ones designing Pippa's flower girl and page boy outfits, and even congratulated Little Eglantine!
Here are our suggestions for those looking for bridesmaid dresses and page boy outfits fit for a royal wedding...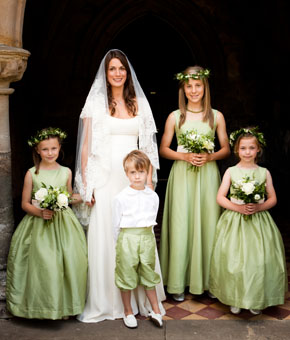 For those looking for a traditional look, we highly recommend peter pan collar shirts with knickerbockers and cummerbund. As Pippa's wedding, pale green is a must-have for Spring and Summer weddings. All our flower girl dresses can be made with a shorter skirt, should the bride request it.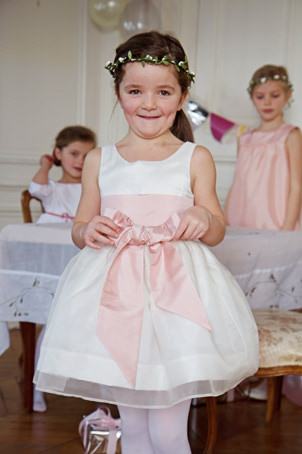 We love the above-the-knee flower girl dresses,
they give a sense of excitement and joy
that is the perfect synonymous of childhood...

Our Constance dress is made of white taffeta with an exquisite off white silk organza overlay and a soft pale Deluxe sash. Each dress is made to order so the brides-to-be can choose among a wide arrey of colours. Size 18M to 9Y, £239
For a Parisian Chic effect,
we recommend our Suzanne above-the-knee dress (left), with its adorable silk organza puff sleeves and pale blue velvet ribbon (Size 6-12M to 9-10Y, £200).
For cooler weddings, our Amelie dress (right), with its 3/4 length sleeves, will be the perfect fit and you can choose the colour of the ribbons, the piping and the buttons. (£178, sizes 18M to 9Y)
These cute flower girls are carrying the Floral Hearts Lavender Green Flowers designed for Pippa Middleton's wedding and are wearing our Adele flower girl dress (Size 18M to 9Y, £256).
Little Eglantine, from 2007 to now…

Ten years ago, Stéphanie Staub created Little Eglantine and presented her first collection of flower girl dresses and page boy outfits, in a French style of timeless elegance. Today the brand is sold all over the world, and is cherished by celebrities and society women. Little Eglantine created the dresses of the flower girls and pageboys for TRH Princess Claire and Prince Felix of Luxembourg's wedding.
Little Eglantine continues to be the French Maison de Couture dressing the world's celebrity and society brides' flower girls and page boys.
Enregistrer
Enregistrer
Enregistrer