The Ultimate Christmas outfits Guide
Dazzle in gold this Christmas.
Little Eglantine offers warm sensations through the golden colours of shimmering winter party dresses.
A cosy fireplace, family coming over to celebrate the Season... Christmas tree is shining of all its glory, Christmas carols echoe from the town...
The presents are being wrapped out of the sight of children who are playing the piano and listening to Grandpa's stories.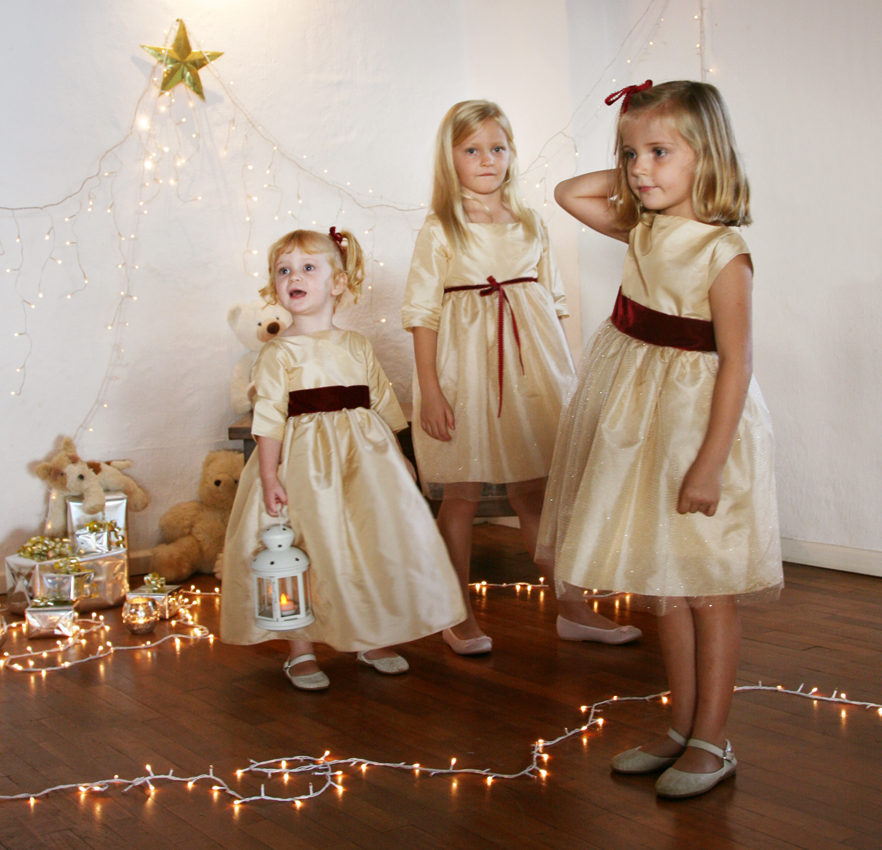 This winter little girls have sparkles in their eyes and dream of wonderful presents...
The magic of Christmas fills our hearts with this tender and warm joy. Christmas is declined in golden taffeta where the burgundy velvet depth mixes with tulle glitter.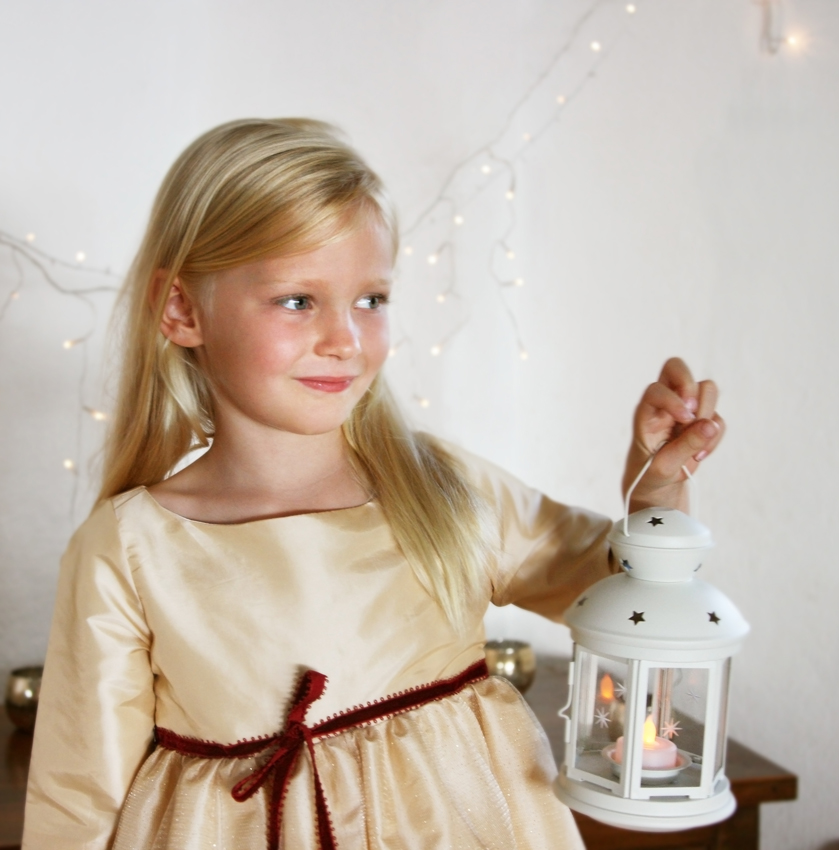 Everything is light and celebration.
This winter the dresses are an invitation to gently live the happy holiday moments... Savour the joyful celebrations bathing in the light of warm colours and glitter...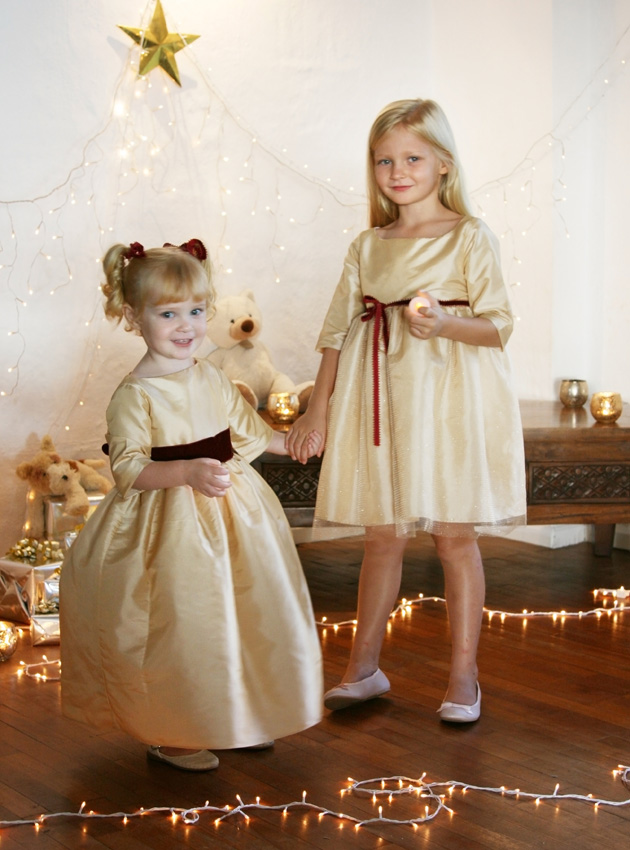 Annabelle dress is made of a shimmering gold taffeta with a sparkling tule overskirt and a delicate deep burgundy velvet ribbon at the waist, to be tied in a gentle bow at the front. We love the delicate buttons covered with burgundy velvet. The ¾ length sleeves will make it a warm elegant party dress for this winter. It is the perfect Christmas party outfit for a lively little girl!
Size 18M to 9Y, £178.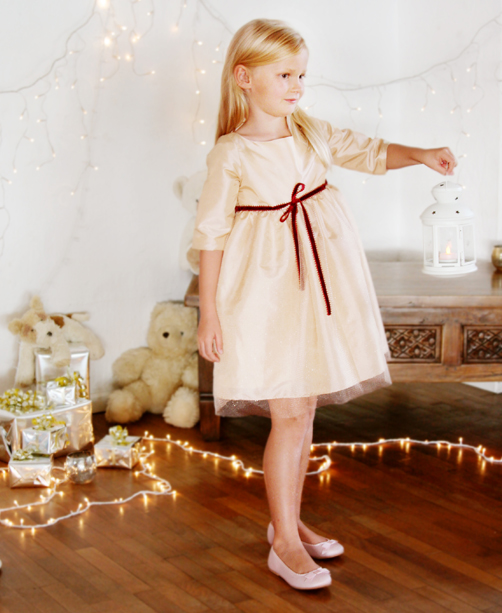 Elena is a lovely party dress with delicate cap sleeves. It is made of a gorgeous gold taffeta and a wide deep burgundy velvet ribbon to be tied up in a big bow at the back, which matches with the burgundy velvet covered buttons. We love its sparkling tulle overskirt, which adds to the magic of the dress!
Size 18M to 9Y, £178.
The exquisite Ines dress is adorable with its ¾ length sleeves, its full skirt and its gorgeous burgundy velvet ribbon at the waist, tied in a big bow at the back. We love the contrast of materials between the shining gold taffeta and the deep velvet ribbon and covered buttons at the back. This is a perfect dress for a Winter wedding of a festive Winter party!
Size 18M to 9Y, £235.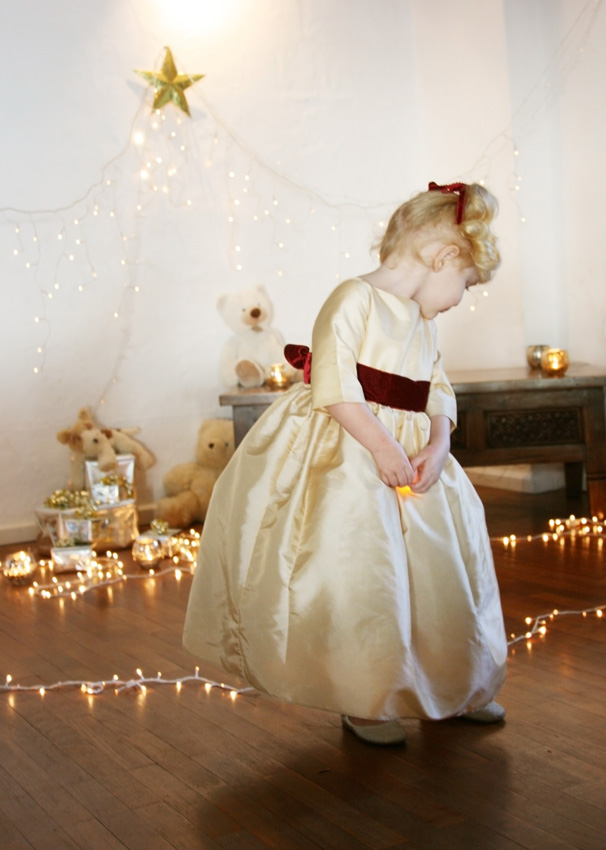 Don't wait! As each garment is made to order, please allow 6 to 8 weeks for delivery, or contact us for a rush order.
I can predict that whether you are looking for a winter flowergirl dress or a Christmas party dress, these will be make the little girls' eyes shine!!!
Enregistrer
Enregistrer
Enregistrer
Enregistrer
Enregistrer
Enregistrer
Enregistrer
Enregistrer
Enregistrer
Enregistrer
Save
Save