An elegant countryside wedding
Millie contacted us about nine months ahead of her wedding, as she was planning on having four flower girls and three page boys for her elegant countryside wedding at Ardington House in Oxfordshire.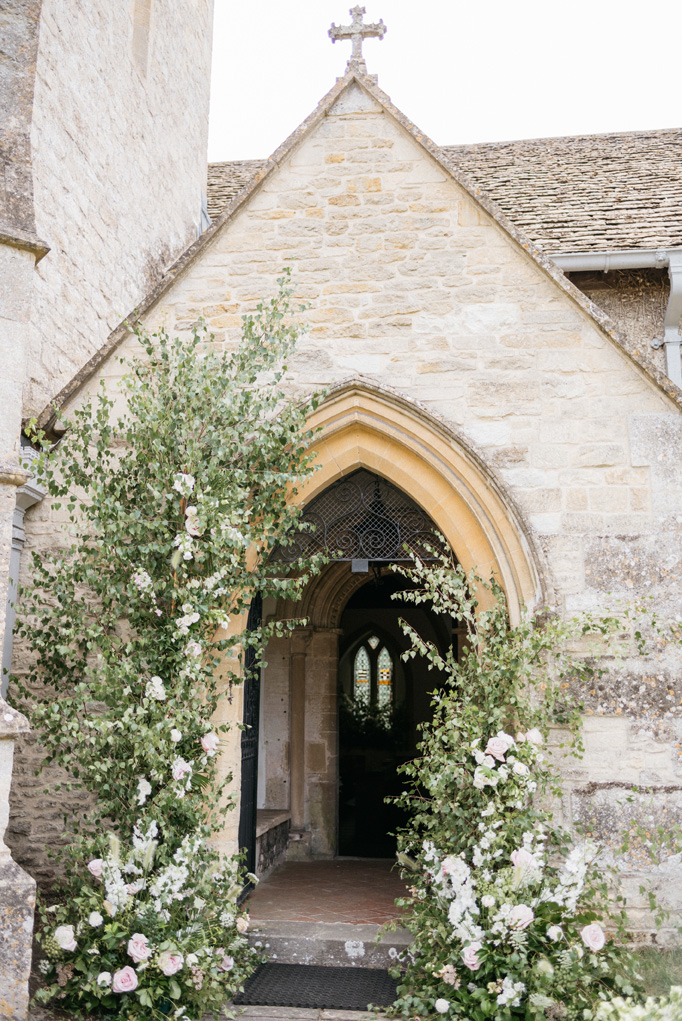 After having had a lovely chat about what she was dreaming of for her wedding, the colours she was after and the designs she liked most, we sent her fabric swatches in a myriad of colours.
She finally went for white taffeta flower girl dresses with soft pink taffeta sashes for the girls, when boys would be wearing white cotton peter pan collar shirts and shorts, with a contrasting sage green cummerbund.
The soft pink taffeta sash perfectly matched her bridesmaid dress!
Millie thought it would be nice for her youngest flower girl aged 7, to differentiate herself from the eldest ones, so she decided that the Alix dress, with her silk organza puff sleeves and doubled layered skirt would be perfect.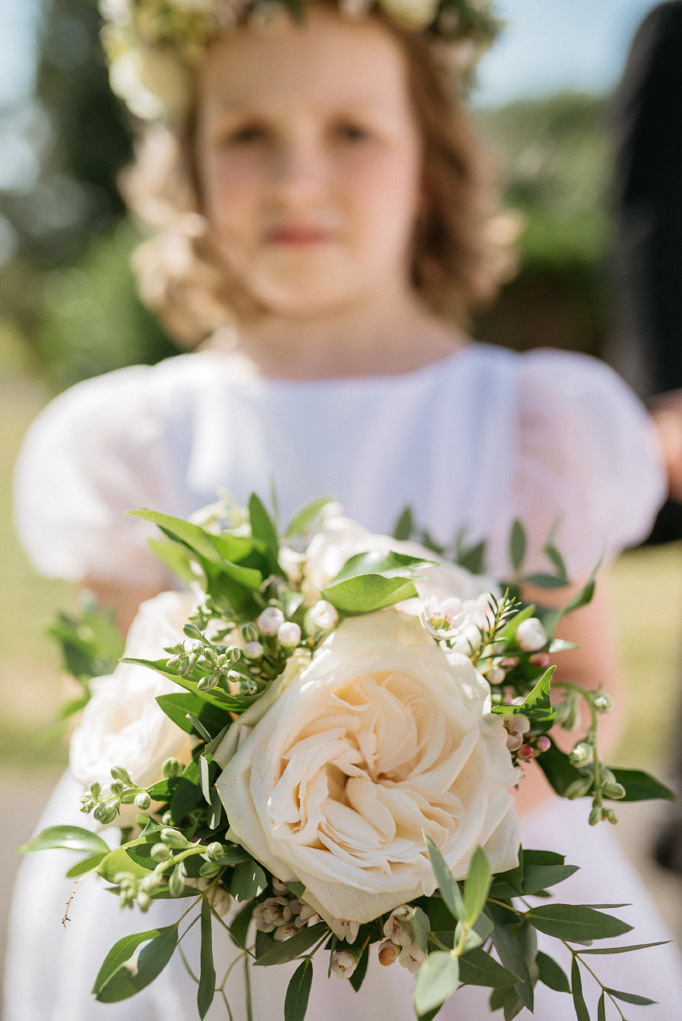 The three older flower girls would wear our Josephine dress, with its deep back and delicate contrasting piping around the neck. As they were already about eleven-years of, we made bespoke dresses for them, each pattern being cut especially for each one of these young ladies.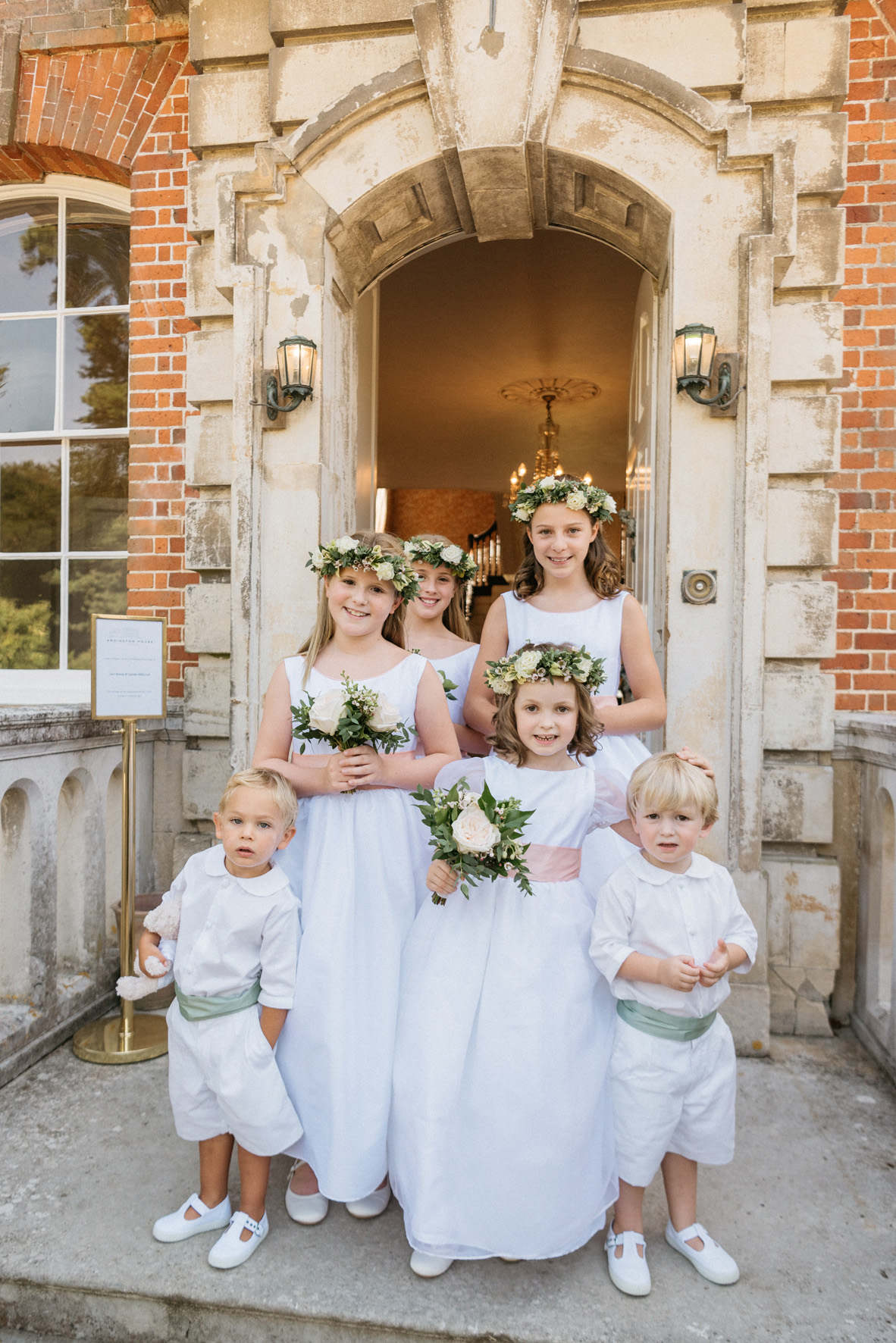 I recommended her to send me each child's measurement 3 months before her wedding, so that I could anticipate their growth and recommend which size would be best to order for a perfect fit at the time of the wedding.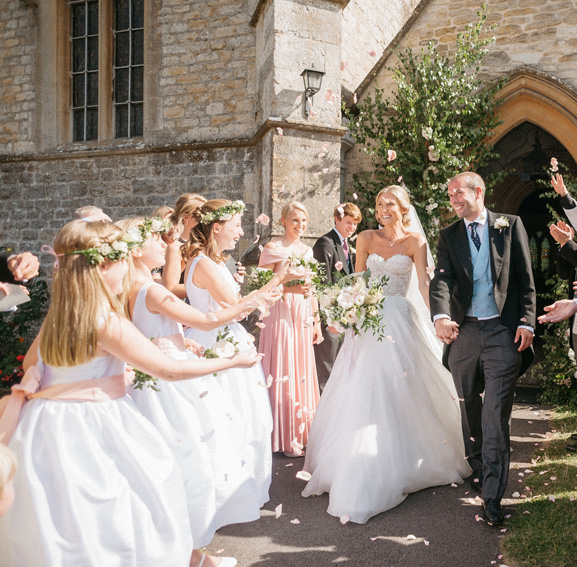 How lovely to have her junior bridal party paving the way with rose petals… Such a delicate and elegant path out of the church. Flowers had a pig part in this summer wedding: the flower girls were wearing fresh flowers headdresses and a lovely bouquet of roses, made with the same flowers and greeneries that were used to make the bride's bouquet. A very stylish floral arch was set at the entrance of the church, which gave a very romantic atmosphere when the newlyweds came out of the church.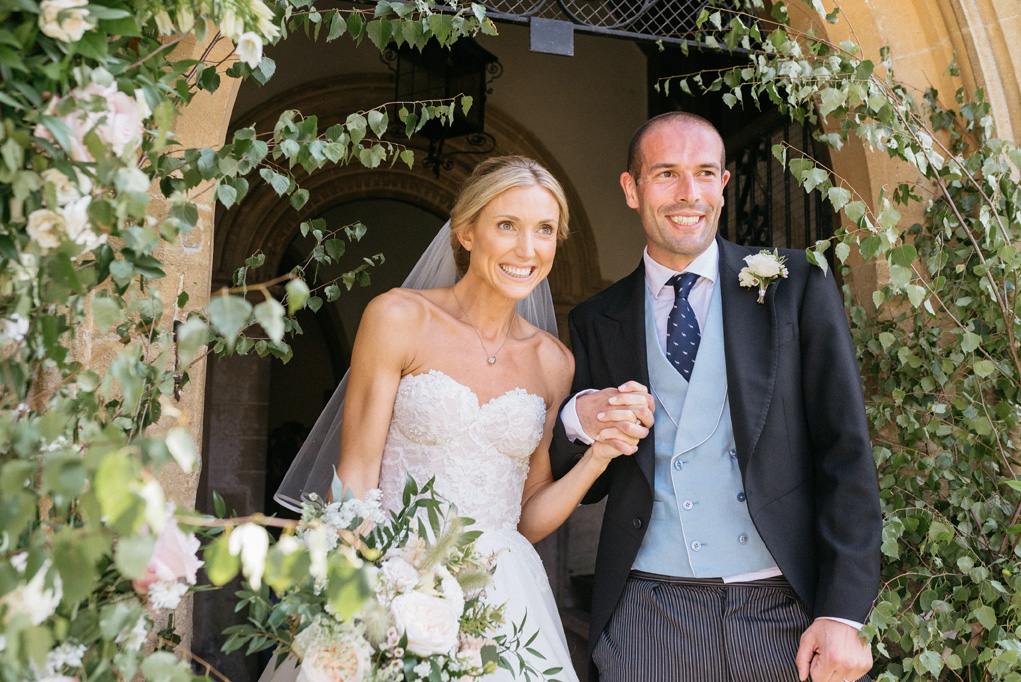 The couple left the church in a beautiful traditional car to reach the main reception.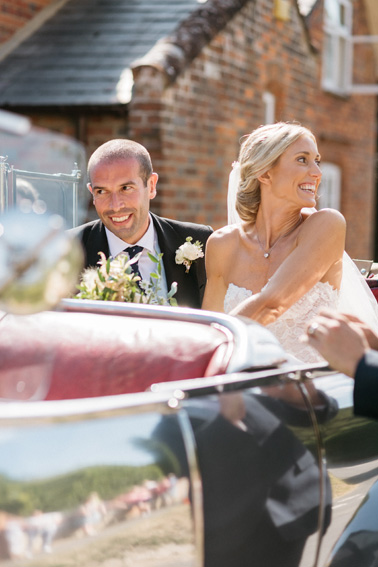 The dinner was set in a tent outside the main house, with nature being key.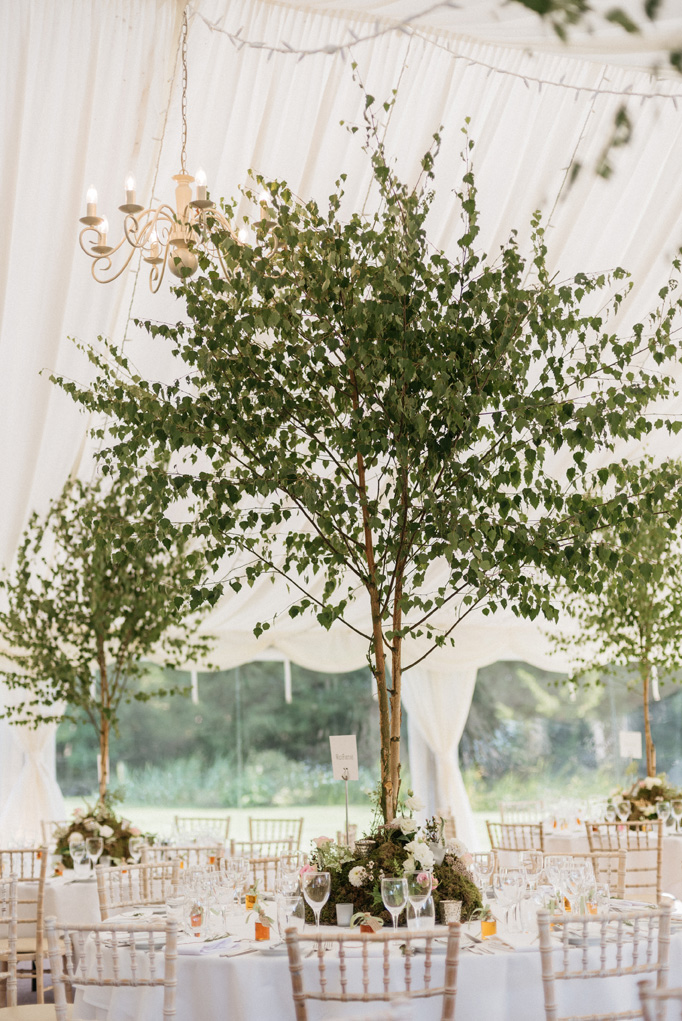 We love these very elegant tables with foliage and trees.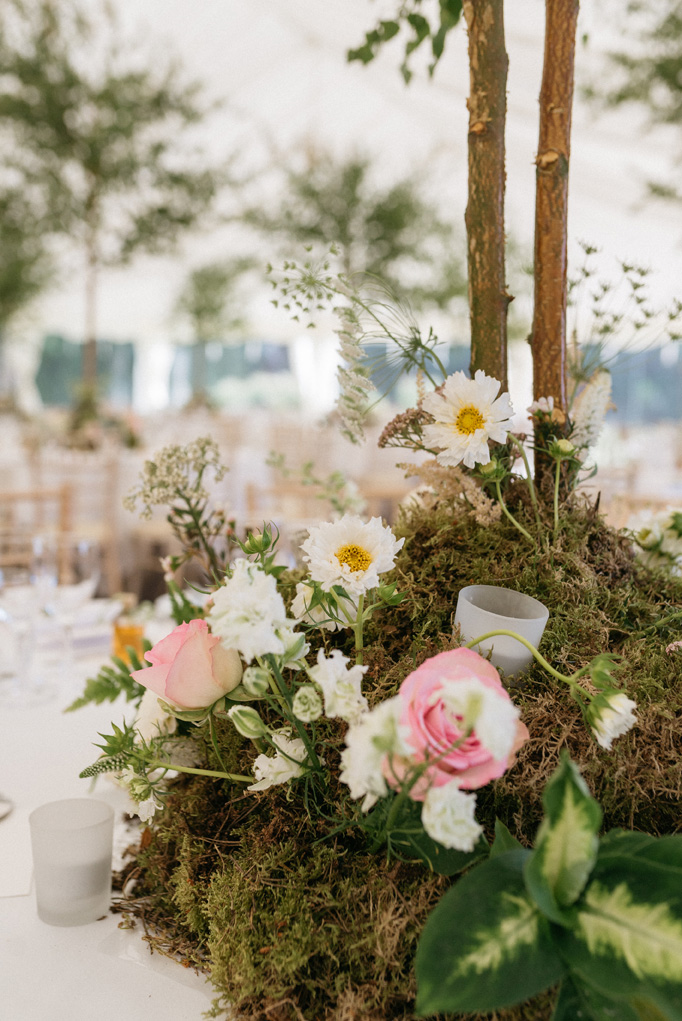 It was a real pleasure for all the team to work for Millie; such a kind and lovely lady… Each one of us puts all her heart in her task, whether it is sending fabric swatches, cutting a pattern, sewing a dress or making a nice parcel. We always have the little girl in mind when sewing for her. It is a work of love that we do and we are so very happy when our dearest brides send us pictures after their big day.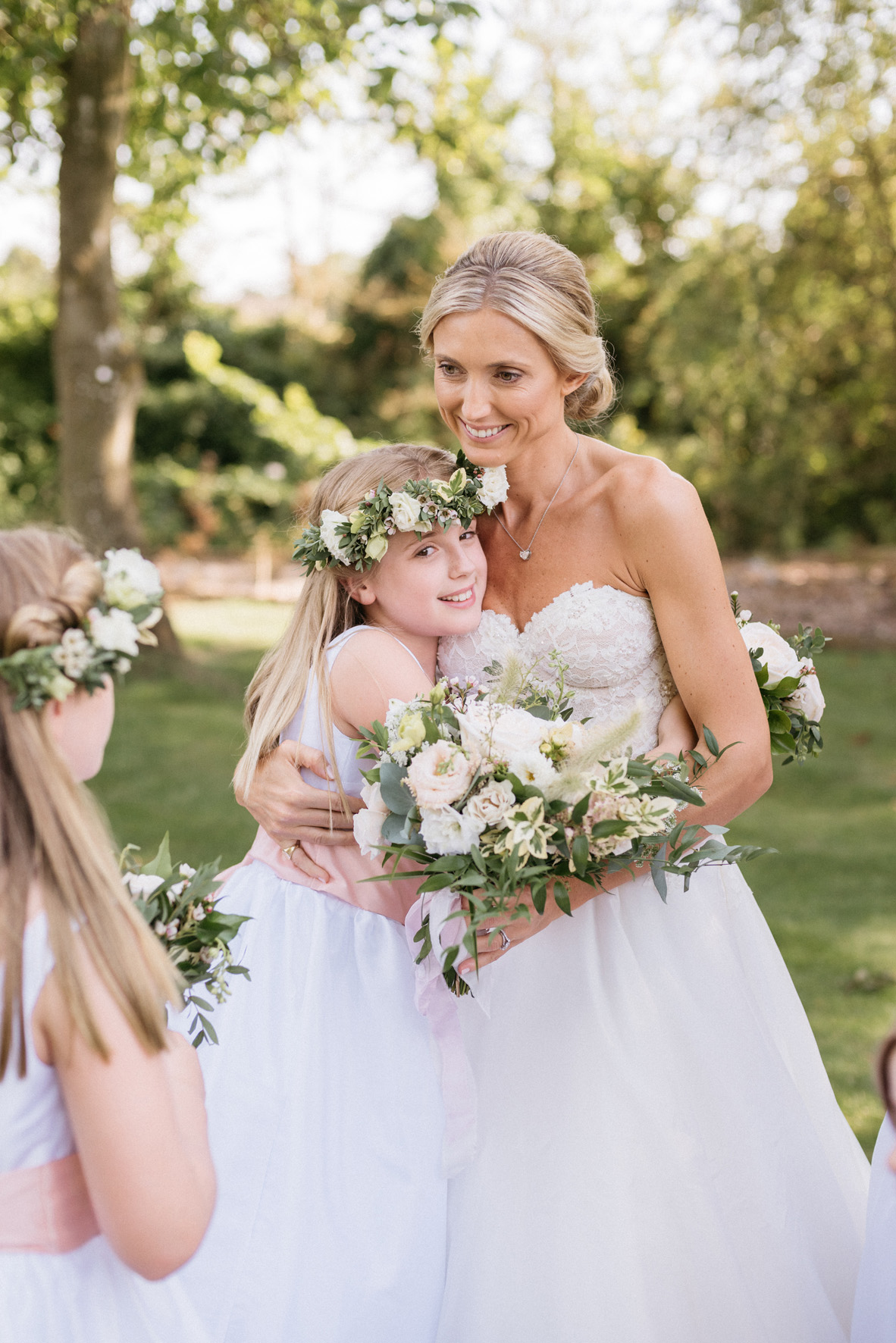 Photo credit: http://photographybybea.co.uk
Flowers : https://www.flowersbykirsty.com/
Wedding dress: https://www.carolinecastigliano.com/