French designer Stephanie Staub will be delighted to design the garments of your dreams, whether these are dresses for flower girls or for communions, made-to-measure pageboy clothes, christening gowns, party wear, or for any special occasion... She designed exquisite garments for HRH Princess Claire of Luxembourg, as well as for celebrities in the UK, in Ireland, in USA...
For exclusive commissions simply contact her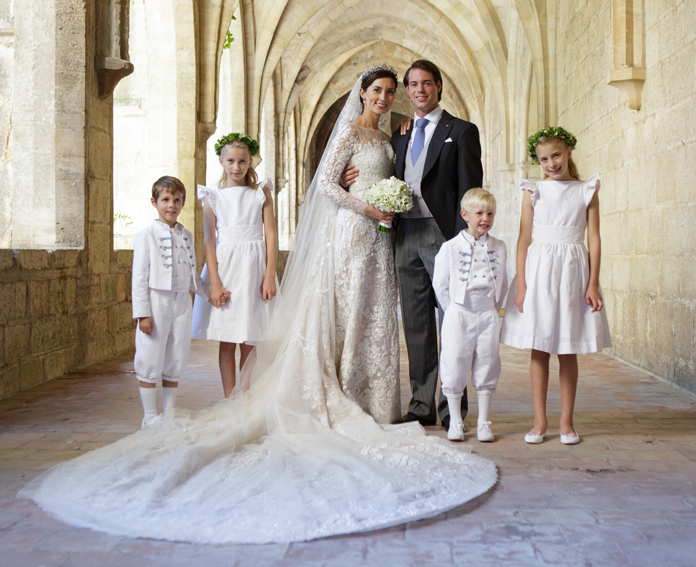 Royal Wedding of HRH Prince Felix and Princess Claire of Luxembourg.
Photo Copyright 2013 Cour grand-ducale- Guy Wolff - all rights reserved
1. Choose
Little Eglantine offers you personally- designed delicate dresses for flower girls, and exceptionally sophisticated and stylish suits for pageboys!
During the run-up to your wedding, we will give you the opportunity to have a creative input into the design of the outfits for your junior bridal entourage. Simply tell us about the design of your dreams!
Stephanie Staub, the designer, is there to understand your likes and dislikes and offer you a dress that will answer all your dreams. Simply call her of email her. She will be glad to help you as much as she can.
She will spend as much time as you need to get a clear idea of your personal style, to discuss ideas and eventually to create a truly individual design.
You will then receive an appropriate estimate, with the fabric swatches you are interested in, so you can get a better idea of what the outfits will look like.
You will always have the opportunity to modify your estimate afterwards, and, if you need help, do not hesitate to contact us in order to finalise your order together.
2. Measure
Thanks to our measurement form, this is the end of the fittings hassle : mums will have no difficulty to take their children's measurements... and you can be sure the garments will fit them perfectly! The designer personally checks every single measurement and contact the mums if she has any doubt of any kind. She also anticipates the children's growth until the wedding.

3. The Couture process
Once we have all the measurements, three months are needed to make the garments. The clothes are carefully made to measure, for each child, from baby to teenager.
You can rest assured that, with Little Eglantine, you will have totally uniquely tailored  outfits for your junior entourage, from the overall design down to the smallest details.