12 Adorable Flower Girl Dresses for the Perfect Fairytale Look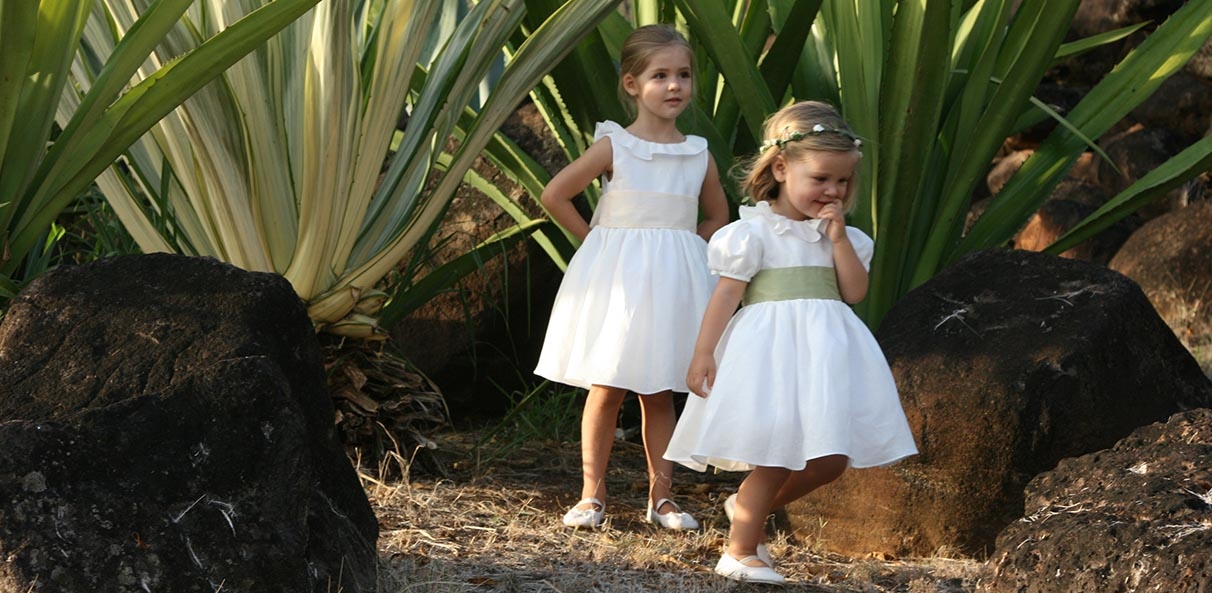 Every bride wants her flower girl to look and feel like royalty on their special day, and the perfect dress is key. From modern designs to traditional looks, here are 12 beautiful flower girl dresses any little princess will love.
Choose the Perfect Look
When selecting the perfect flower girl dress for your wedding, think about the overall look and feel of the ceremony. Is it a traditional church affair, or something more modern?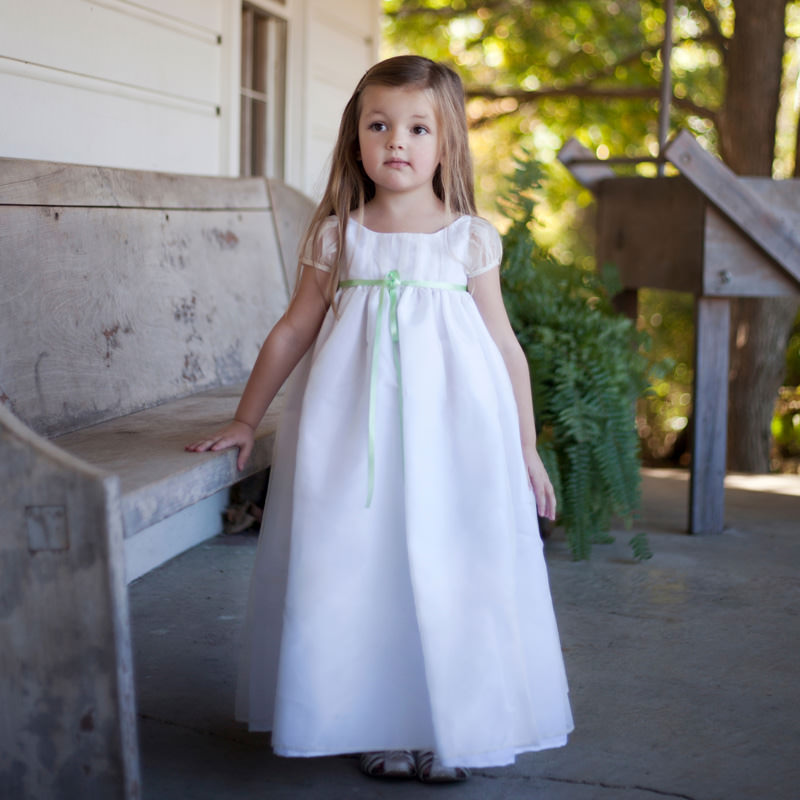 Choose a dress that compliments the bride's gown and bridesmaid dresses, ensuring that everyone present looks great on this special day. Moreover, if there is a color theme at your wedding, it's important to make sure your flower girl dress fits right in!
Choose a dress style that is age appropriate and that your flower girl can move around in comfortably. If she's just a baby, opt for something airy and light! On the other hand, if she is old enough to understand more about fashion, ask for her input so that she feels included and comfortable wearing the dress. Ultimately, make sure her dress reflects the overall spirit of your wedding day.
Since comfort is key for any flower girl, make sure to choose a dress with a soft lining and a modest hemline. It will also help her look and feel at ease.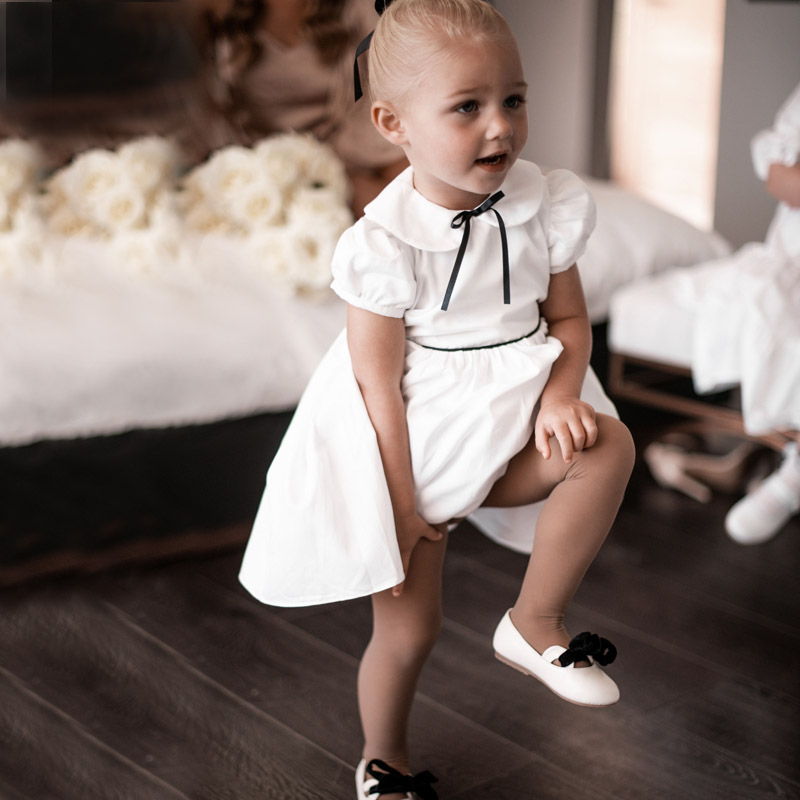 Keep accessories to the minimum – a delicate hair accessory or shoes can be all that's needed. Lastly, balance the cuteness factor with sophistication so she looks like the little princess she was meant to be without looking too over-the-top!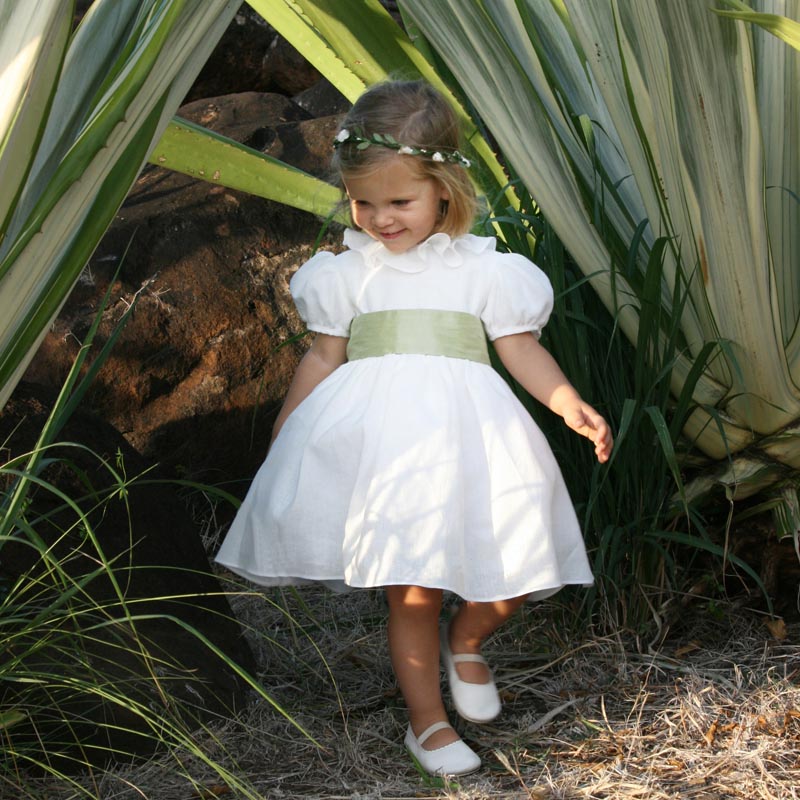 Additionally, planning ahead is key when it comes to flower girl dresses. We usually recommend you email us the children's measurements 10 to 12 weeks before the wedding. The designer will anticipate the children's growth and recommend which size is best to order for a perfect fit at the time of the wedding. We can also customize or adjust the dress if needed.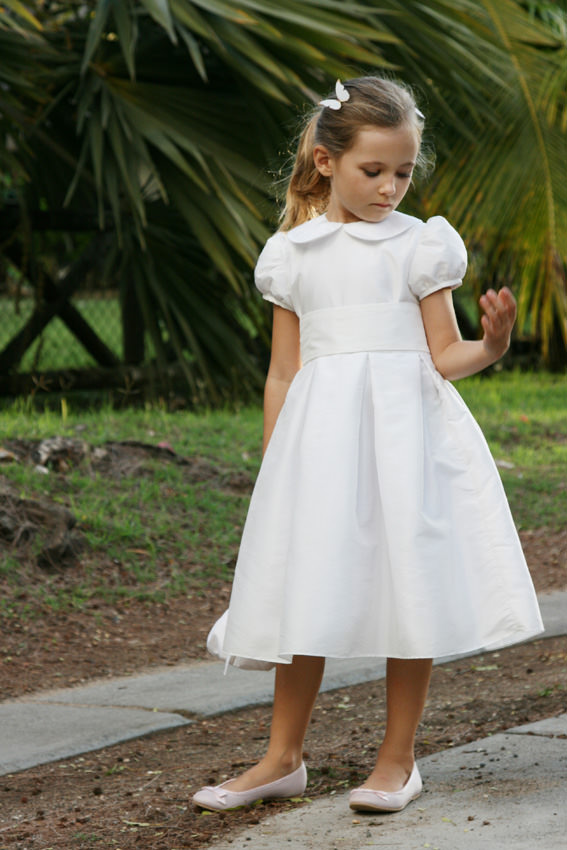 Also, be mindful of the weather; if it's going to be hot outside on wedding day, choose light colors that won't get too hot! Keep these tips in mind and you're sure to end up with a chic and timeless flower girl dress for your special day.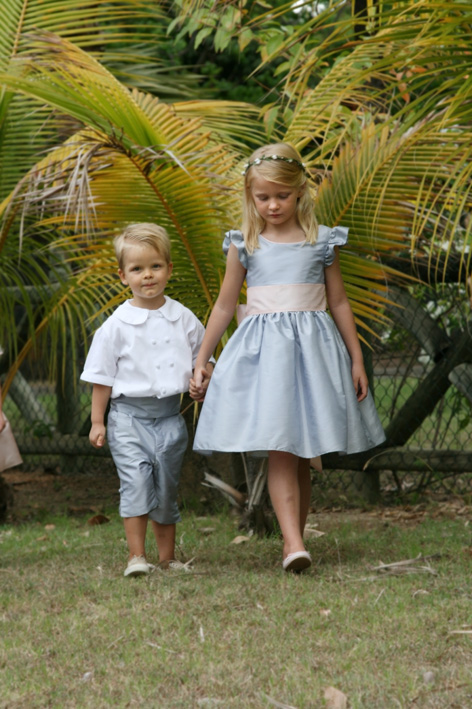 Whether you choose a classic ivory look or something more modern with bold colors, your flower girl is bound to look gorgeous. Plan ahead and remember to consider the overall look and feel of your ceremony, as well as the wedding day weather when choosing a flower girl dress.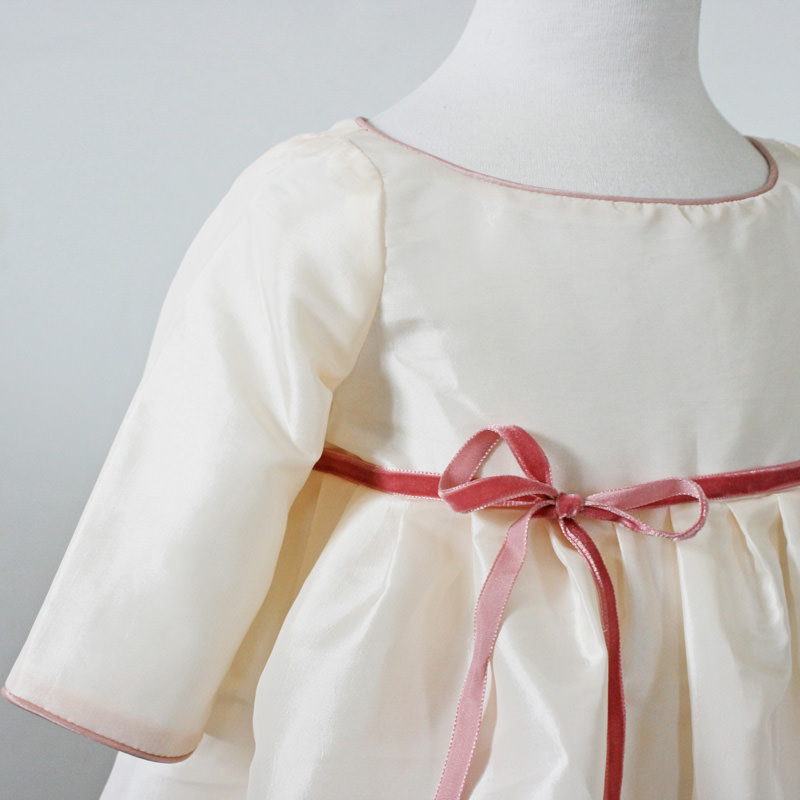 Put thought into finding one that is comfortable and age-appropriate while emphasizing the spirit of your wedding. By taking all these steps your flower girl is sure to look stunning on the big day!
Taffeta and silk organza Princess Dress
A taffeta and silk organza princess dress is the perfect choice for a fairy-tale-inspired wedding. The full skirt and fitted bodice create a classic silhouette, while the delicate silk organza overlay adds a touch of whimsy. The dress is finished with a beautiful bow at the waist and a full tulle underskirt for added volume. Your flower girl will feel like a true princess in such a stunning dress.
Linen flower girl dress for a  Country Chic Wedding
If you are planning a country chic wedding or an elegant wedding in the city but with a less traditional feel, opt for a beautiful linen flower girl dress. An elegant material combined with a beautiful dress will make your flower girl feel so pretty and relaxed.
You might opt for a V back with a frill collar flower girl dress, also made of this elegant ivory linen and choose a sash that matches your wedding theme or your best mens' ties.
You might also wish for a romantic deep back for your flower girl... Together with a knee-length dress, your junior bridesmaid will feel so pretty for this special occasion.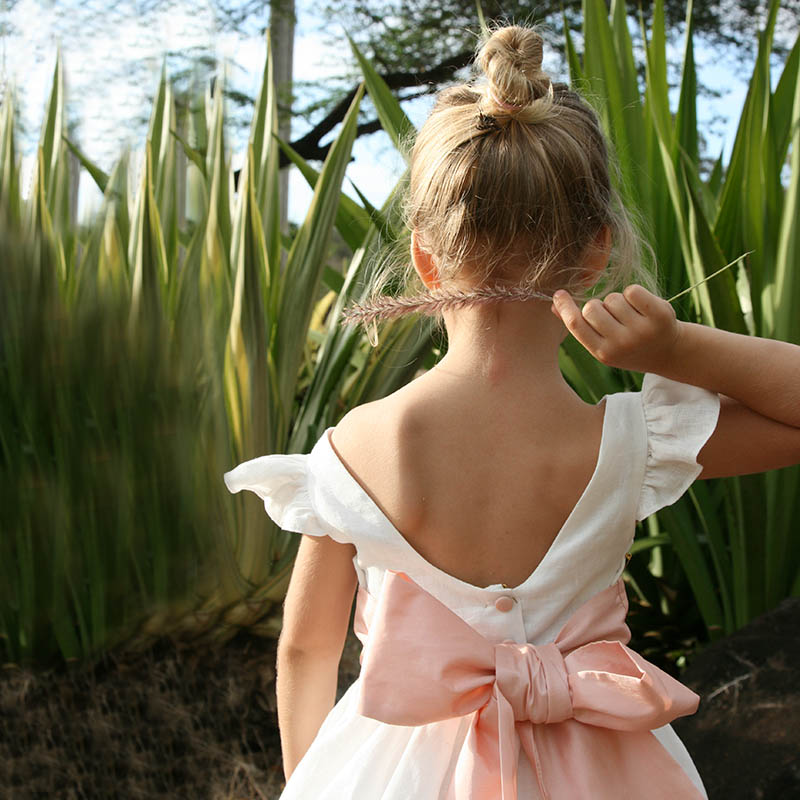 Whether you are preparing a wedding in the UK, in Ireland or in the US choosing the perfect  designer flower girl dress will make all the difference.