Stylish Winter collection at Little Eglantine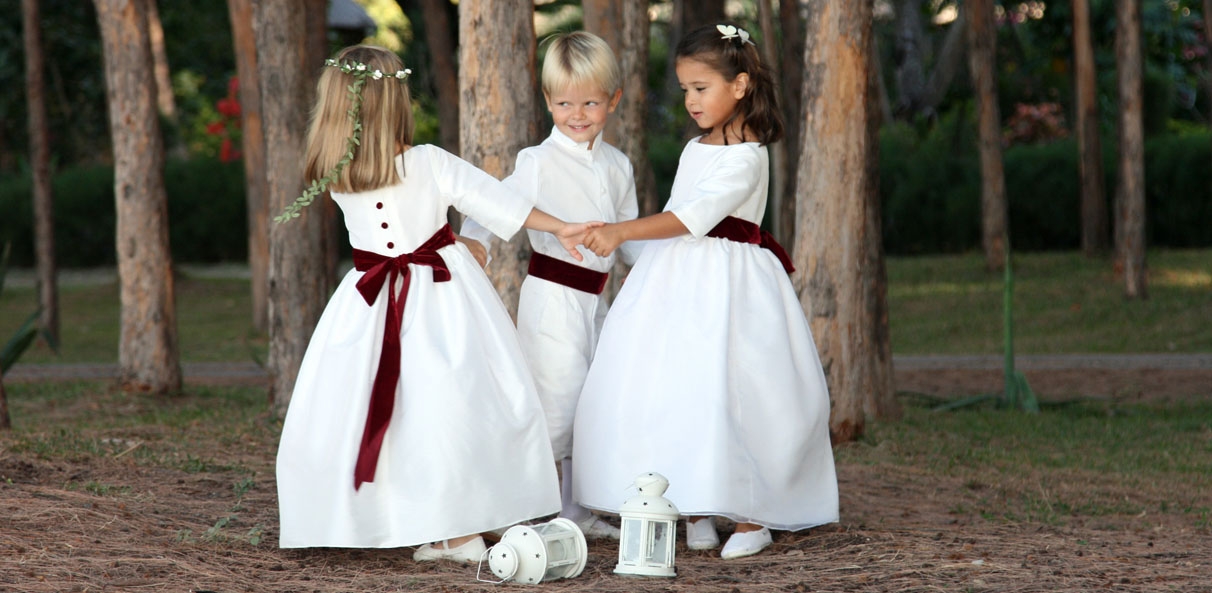 For winter, French designer Stephanie Staub dreamt of snowy winter weddings. The award winning designer created a vaporous capsule collection playing with the purity of the whites and the depth of burgundy velvets.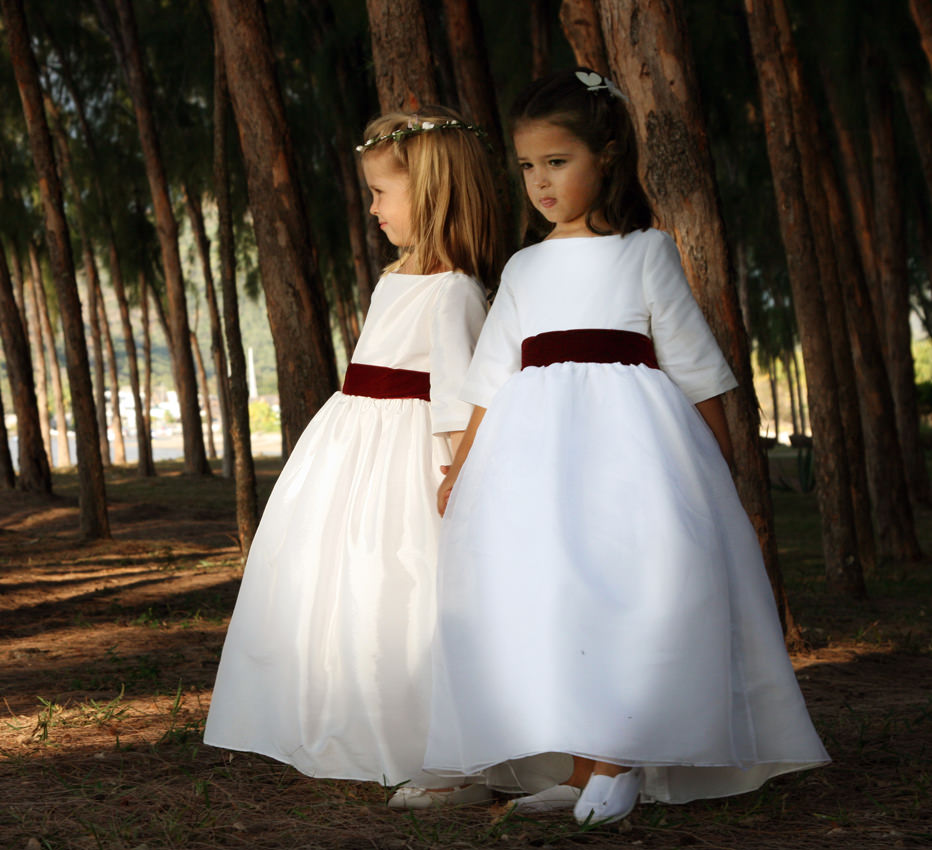 This winter, flower girls imagine themselves as winter princesses and twirl, twirl in the delightful peace of an enchanted forest.
Page boys are their chivalrous knights, guiding them through unknown landscapes. We can hear their laughs and games while they make a round, singing and laughing from all their heart.
Camille dress is made of a vaporous off white silk organza overskirt and a delicate deep burgundy velvet ribbon tied in a lovely bow at the back.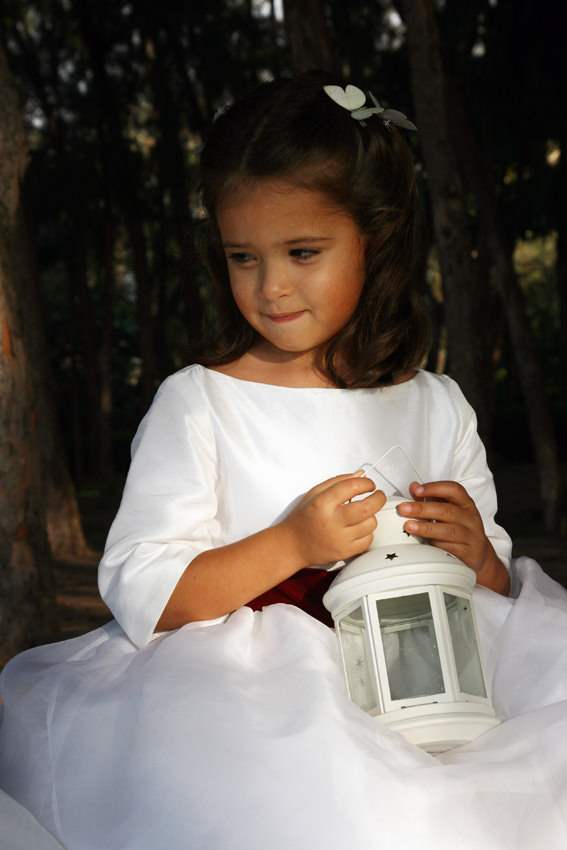 We love the delicate buttons covered with burgundy velvet.
The ¾ length sleeves will make it a warm yet elegant dress for winter weddings.
Size 18M to 9Y
We like the shape of the Ines dress, with its boat neckline and ¾ length sleeves.
Savor the contrast between the white taffeta and the depth of the burgundy velvet ribbon and buttons.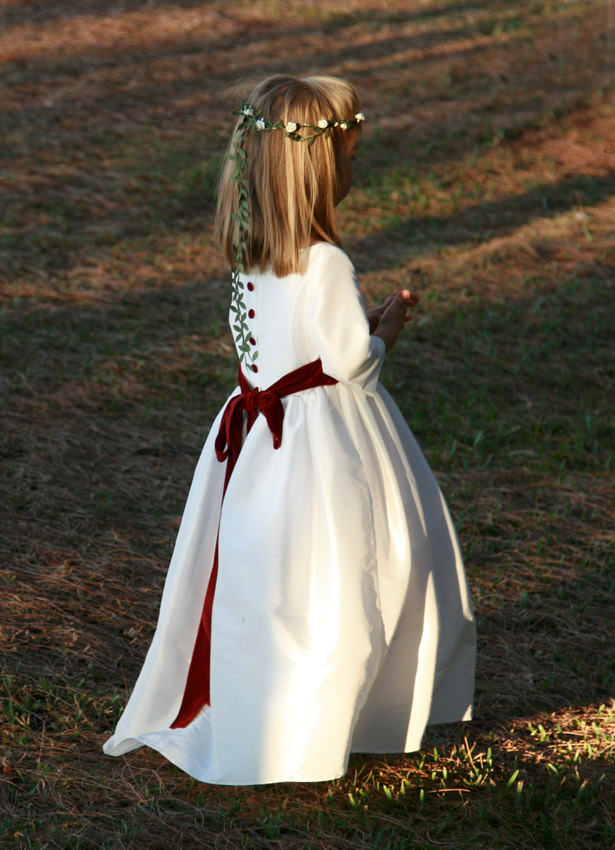 This ballerina length dress will make little girls feel very special.
Size 18M to 9Y
The page boy is dressed with a Mandarin cotton shirt and an elegant pair of white taffeta button shorts. The contrast with the deep burgundy velvet cummerbund gives all the cachet to his outfit.
Mandarin collar shirt: size 2 to 10
¾ button shorts : size 2 to 8
These children outfits will be perfect for elegant winter weddings, whether celebrated in the beauty of the countryside or in the Christmas lights of the city.
***
French Maison de Couture Little Eglantine offers elegant flower girl dresses, page boy outfits, communion and christening dresses.
Their award-winning designs are cherished by celebrities and society women, such as HRH Princess Claire of Luxembourg or Millie Mackintosh, who trusted them for the creation of her junior bridal party outfits.
You will love the exquisite finish of each piece, from highest quality fabrics to thoughtful details.
Far from the industrialized mass production, this confidential label is all about simple, timeless and luxurious French elegance.
Their relentless pursuit of perfection spans in each detail, as well as the exclusive and personal service they offer.

In accordance with the best craftsmanship traditions, each garment is beautifully handmade with love by a team of professionals dedicated to perfection.
Through Little Eglantine, children receive the personal, warm and sophisticated touch of French "Haute Couture", which set Little Eglantine's collection apart.
+44(0)20 3287 0648

https://littleeglantine.com