Bridesmaid dresses & page boy outfits fit for a Royal wedding… Little Eglantine designer's insights
Bridesmaid dresses & page boy outfits fit for a Royal wedding… Little Eglantine designer's insights
Stephanie Staub, the designer behind French Maison de Couture Little Eglantine knows something about Royal romance… She created the flower girl dresses and the page boy outfits for TRH Princess Claire and Prince Felix of Luxembourg's royal wedding. We asked her what she thought the Royal junior bridal party outfits would look like.
Photo Copyright 2013 Cour grand-ducale- Guy Wolff - all rights reserved
Harry's and Meghan's wedding will take place in the gorgeous surroundings of Windsor Castle, and we have been told that there will be a carriage procession through the streets of Windsor. With such a traditional setting, Meghan will definitely want classy and elegant outfits for her flower girls and page boys. Yet, as she is a modern and decided woman, I guess she will also be looking for outfits reinterpreting classic shapes with modern refinement.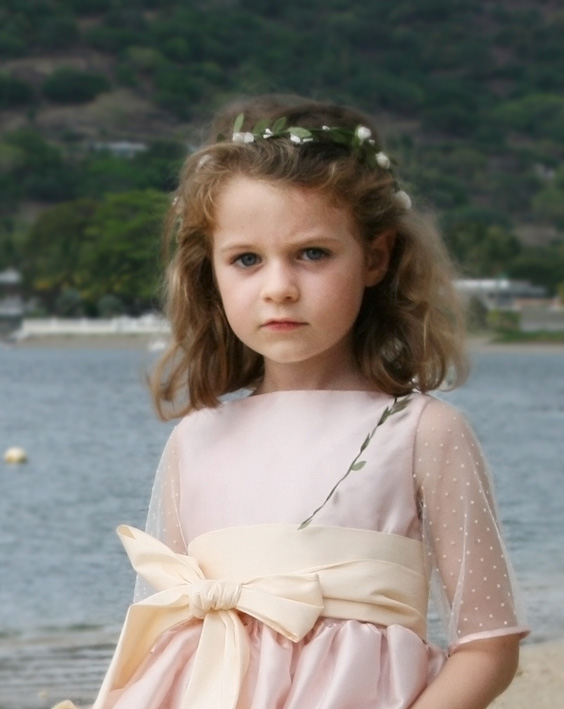 Princess Charlotte, 2, and Ivy, 4, (Jessica Mulroney's daughter) are said to be flower girls. So I would expect Meghan to go for knee length flower girl dresses. For such an elegant Spring wedding, I would imagine blush pink dresses with delicate spotted tulle elbow length sleeves and an ivory big bow on the front. The whole look would then combine timeless grace and playful simplicity.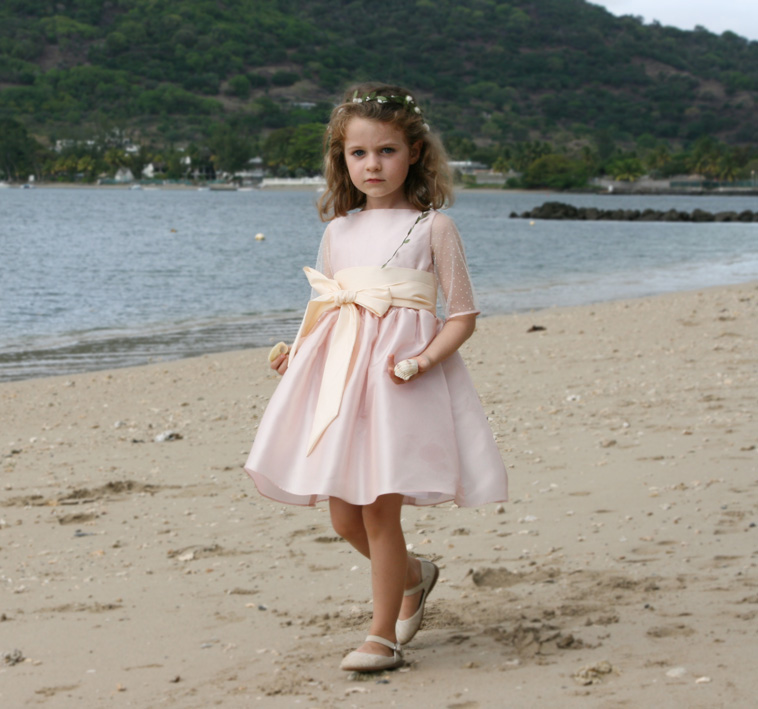 Prince George being just four years old, I could see him wearing a white peter pan collar shirt, which is just adorable for such a tender age. I would recommend a silver pair of ¾ length button shorts with a silver cummerbund.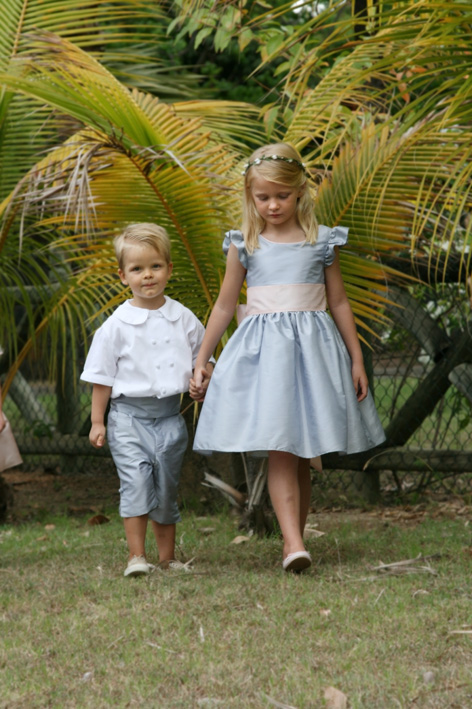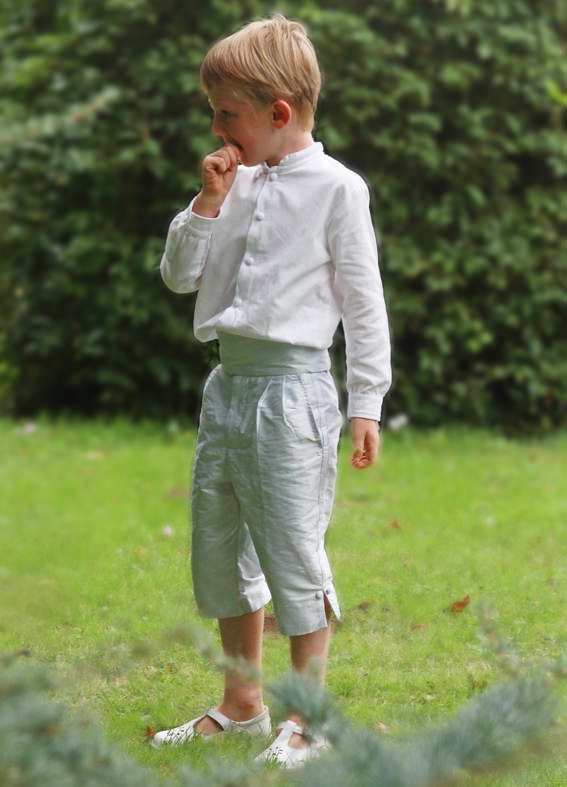 I would see Princess Charlotte wearing a rose floral headdress as this is such a charming note.
Whatever their choice, we know they will look adorable for the occasion."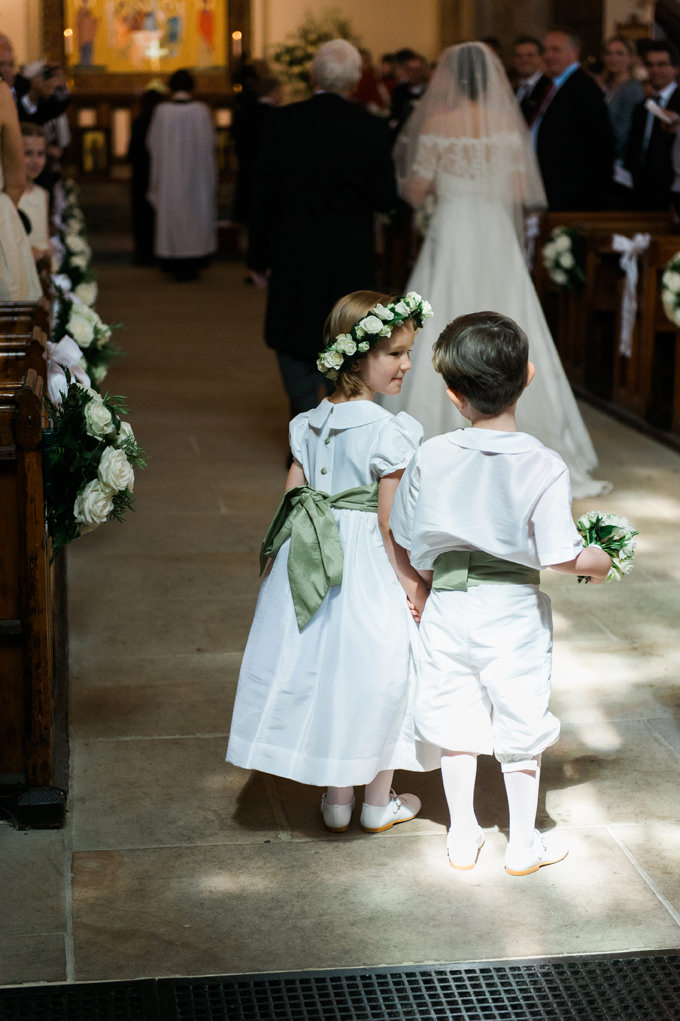 Photo credit : Kate Nielen Photography
If Meghan wishes to go for an even more relaxed but yet very elegant junior style, Princess Charlotte could wear an above-the-knee-length white taffeta dress with a high waist - which is adorable - with a boat neckline and transparent silk organza puff sleeves. A discreet pale blue velvet ribbon sash would contrast nicely with the taffeta.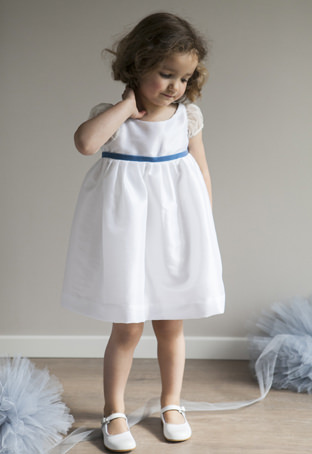 Prince George might wear a sailor top with a matching ribbon along the collar's edge, with white knickerbockers and a cummerbund.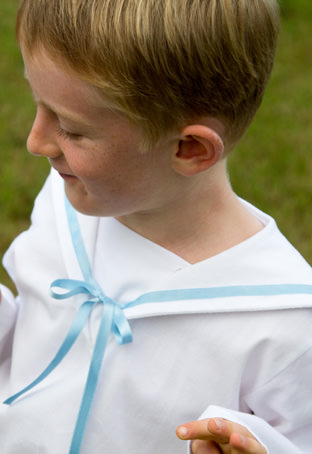 These elegant yet modern outfits would reflect the modern era that Harry and Meghan's union represents for the British royal family."
And if the bride decides to go for a more traditional Royal wedding style, she could very well opt for romantic full length flower girl dresses.
I would very much like to see our Celeste or Olympia dresses at the Royal wedding. With their deep back and very elegant spotted tulle, they would be such a delight for the eyes…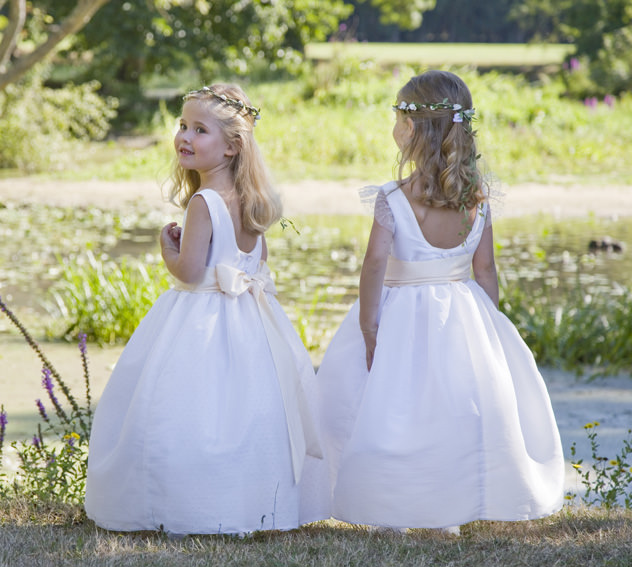 What fashion trends do we usually/can expect to see with Royal wedding outfits?
In British Royal weddings, flower girls usually wear long silk dresses with puff sleeves with a sash tying in a big bow at the back. The perfect princess dress every little girl dreams of! Depending on the age of the page boys, we can expect them to wear silk breeches if they are young of age, or trousers if a bit older, with a cummerbund and a peter pan collar or officer collar shirt. Both Princess Diana's and Kate Middleton's flower girls were wearing ivory silk flower girl dresses and their page boys wear wearing military jackets. Princess Diana's pages were wearing trousers while Kate's were wearing ivory breeches. As Prince George is much younger, I don't expect him to wear trousers, but maybe knickerbockers, or three quarter length button shorts, which are more suitable for a tender age.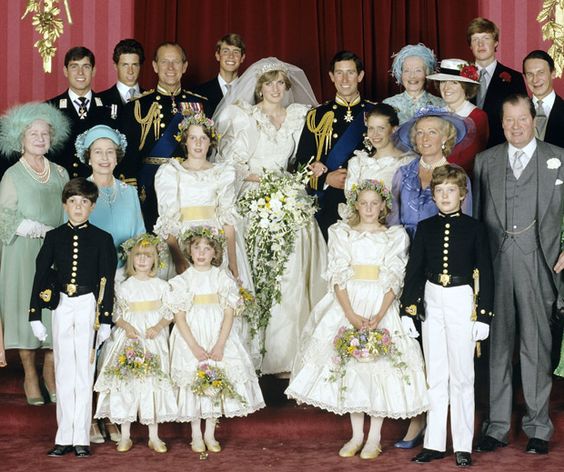 How would one take inspiration from royal weddings (like HRH Prince Felix of Luxembourg's wedding) and incorporate it into their own flower girl and page boy outfits?
The outfits for HRH Prince Felix of Luxembourg's wedding were a bespoke commission. However, I had several clients who were so in love with the page boy outfits I designed for Princess Claire of Luxembourg that they asked for the exact same garments! I guess it all depends on the style you are after for your wedding. Imagine adorable flower girls walking down the aisle in delicate silk organza full length dresses, holding hand with assorted page boys… this is a heavenly image and is accessible to everyone. Depending on the style of your wedding, you could opt for very traditional designs like our double breasted shirts with knickerbockers for the boys. For a more contemporary look, opt for a peter pan collar shirt, cotton French shorts with cummerbund and cotton sneakers for the boys, and knee-length flower girl dresses for the girls. I have designed dress shapes to suit any elegant wedding style. And as each garment is made to order, you can choose among a wide range of fabric colors to match your wedding theme. So each dress is unique, as is each wedding!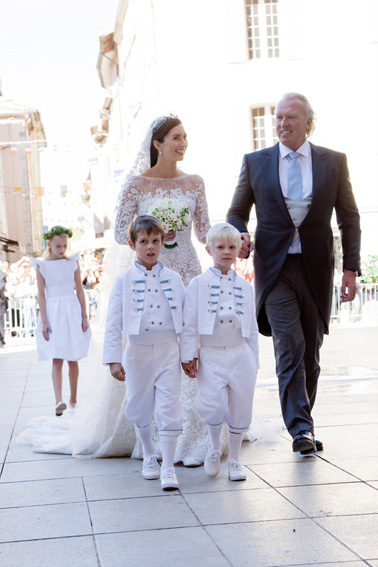 Photo Copyright 2013 Cour grand-ducale- Eric Chenal - all rights reserved